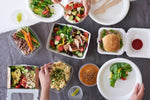 At Cuisiness, we understand that each person has unique nutritional needs, specific dietary preferences, and individual health goals. That's why we offer the opportunity to customize your meal plan to perfectly match your lifestyle and requirements. In this article, we will show you how you can personalize your culinary experience with Cuisiness based on your needs and objectives.
Identify Your Nutritional Need
The first step to customizing your meal plan with Cuisiness is to identify your nutritional needs. Whether you're looking to lose weight, gain muscle, maintain your current weight, or simply adopt a healthier diet, your nutritional needs will vary. You can work with a nutritionist or dietitian to get personalized recommendations.
Select Your Dietary Preferences
At Cuisiness, we understand that each person has unique dietary preferences. Whether you're vegetarian, vegan, gluten-free, or a meat enthusiast, we have a variety of options to cater to your preferences. When customizing your meal plan, be sure to select the types of foods you like and want to include in your daily diet.
Choose Your Caloric Ranges and Portions
Depending on your health goals, you'll need to determine the appropriate number of calories and portions for each meal. If you're aiming for weight loss, you may need to reduce your portions and monitor your calorie intake. If you have higher energy needs due to an active lifestyle, you can choose larger portions for each meal and even more protein!
Add Special Instructions
We understand that each individual may have special needs, allergies, or dietary restrictions. That's why we offer the option to add special instructions to your meal plan. If you have food allergies, specific preparation requirements, or foods you prefer to avoid, feel free to let us know.
Diversify Your Meal Choices
One of the advantages of customizing your meal plan with Cuisiness is the diversity of meal choices we offer. You can vary your meals based on your preferences while ensuring adequate nutritional intake. Opt for balanced meals, healthy snacks, and indulgent options that suit you. You'll try new dishes every week as the menu changes weekly!
Review and Adjust Regularly
Your nutritional needs and health goals may change over time. Therefore, it's essential to regularly review and adjust your meal plan with Cuisiness. If you achieve your goals or if your situation changes, feel free to contact us to adjust your meal plan accordingly.
At Cuisiness, we firmly believe in the importance of customizing your meal plan to meet your unique needs, preferences, and health goals. With our flexible approach, you can enjoy tasty and nutritious meals while honoring your lifestyle and dietary choices. Don't compromise your health—choose customization with Cuisiness and start your journey towards better nutrition today.
To learn more about our meal customization options, feel free to contact us. We are here to help you create the perfect meal plan that suits you.
Eat well, be well with Cuisiness.