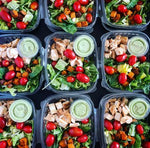 It can be challenging to juggle busy schedules while maintaining a balanced diet. This is where Cuisiness comes into play, offering a convenient and delicious solution for those seeking a healthier lifestyle without sacrificing their precious time. In this article, we will explore how Cuisiness meal preparation and delivery can simplify your quest for a healthy and balanced diet.
The Quest for Healthy Eating: A Daily Challenge
Nutrition is one of the fundamental pillars of health and well-being, but the realities of modern life can often make it difficult to uphold healthy dietary choices. Between hectic work schedules, family obligations, and other responsibilities, it's understandable that preparing nutritious meals can be put on the back burner.
The Cuisiness Solution: Healthy Meal Preparation and Delivery
Cuisiness understands the challenges many people face in maintaining a balanced diet. That's why we've created a solution that streamlines this process while offering delicious and nutritious meals. Our meal preparation and delivery service allow you to enjoy the benefits of a healthy diet without the stress of cooking.
Meal Preparation: More Time for Yourself
Meal preparation can consume a lot of time and energy, especially if you're looking to include a variety of healthy foods. Cuisiness frees you from this constraint by taking care of the meticulous preparation of balanced meals. Our team of talented chefs creates flavorful and nutrient-rich dishes using high-quality ingredients to provide you with an unparalleled dining experience.
Meal Delivery: Comfort and Convenience
Cuisiness meal delivery adds a layer of convenience to your pursuit of a healthy diet. You don't have to worry about grocery shopping, cooking, or meal planning. We deliver freshly prepared meals directly to your doorstep, ready to be enjoyed. This means you save precious time that can be dedicated to other important aspects of your life.
A Diverse Menu that Satisfies All Tastes
At Cuisiness, we understand that everyone has different dietary preferences. That's why our diverse menu offers a range of options to satisfy all tastes and nutritional needs. From protein-rich dishes to vegetarian choices and even gluten-free options, our menu has been designed so that everyone can find something they enjoy.
Embrace a Healthier Lifestyle, One Meal at a Time
With Cuisiness meal preparation and delivery, you no longer have to choose between a healthy diet and a busy schedule. We offer a convenient solution that allows you to maintain your nutritional goals without compromising your daily routine. Enjoy the benefits of healthy meals without sacrificing your time or culinary pleasure.
By choosing Cuisiness, you're choosing health, well-being, and simplicity. Our commitment to quality, freshness, and flavor ensures that every bite is a delicious and nourishing experience. Discover the ease of healthy eating with our meal preparation and delivery services, and embark on your journey to a healthier lifestyle today.