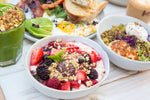 I know it's a nice thought to imagine that breakfast is the most important meal of the day, but for many people, it boils down to a quick coffee or smoothie. Breakfast can be nutritious and delicious, allowing you to save time in the morning and give you the energy to start your day with determination. Here's a simple way to make your breakfasts healthy: cook your grains and beans in large quantities the night before so they're ready for breakfast. This will save you time in preparing breakfast or lunches for several days in a row. Here are some other ideas:
Prepare oatmeal with healthy toppings like nuts, cinnamon, honey, or fruits. You can mix them with yogurt or cottage cheese to complete your breakfast with protein.
Prepare a large batch of oatmeal. It's easy to find oat flakes in your supermarket or local grocery store.
Add a variety of fruits and nuts to your oatmeal (I like adding raisins, almonds, and walnuts).
Have a small (or large) bowl of fresh fruits for breakfast (you can make a salad with oranges, kiwis, bananas, and strawberries, for example).
Often, we have little appetite in the morning. You don't need to have a huge meal for breakfast. It's more important to eat healthy and balanced to maintain a healthy body. Additionally, it may be recommended to have small snacks. This can help prevent hunger, especially if you're trying to lose weight or simply watching your diet. Here are some good ideas:
Exercise in the morning after breakfast, then have protein and vegetables for lunch. For example, an egg white on an English muffin with salami or prosciutto. Or grilled chicken breast with grilled asparagus and avocado slices. Delicious, isn't it?
Have a bowl of soup for lunch (try some ideas suggested in this article).
Have a lightly dressed salad with your favorite meat and vegetables (I like adding grilled chicken or salmon or trying flavor-packed wraps. Just be sure to avoid fried foods and too many calories from nut butters, oils, dressings, and toppings).
Prepare a yogurt at work with a frozen banana as dessert (serve with 100% fruit for an afternoon pick-me-up).
Do you have little time to cook or prepare meals? Find all our weekly options here!
What foods to avoid for breakfast?
Breakfast is the most important meal of the day, but it's not without pitfalls. Whether it's unhealthy foods or foods that leave you hungry for lunch, there are a few things to avoid during the morning meal. Whether you're looking for a vegan option or simply want to make healthier choices, these foods can leave you feeling indigestion or lethargic before noon. And if your diet is already high in sugar and carbohydrates, it doesn't help!
Foods to avoid for breakfast:
Processed sugar (candies, cake mixes, sugary cereals).
Sugar or artificial sweeteners in any form (high-sugar breakfast cereals, chocolate milk).
Carb-heavy drinks (fruit juices, sodas).
Processed meats and excessive salt (sausage, bacon, ham).
High-fat and high-salt breakfast foods (undercooked bacon and eggs or added to other foods).
Alcohol, coffee (often leads to dehydration and subsequent overeating).
Foods that are hard to digest in the morning.
Eating out for breakfast:
Breakfast restaurants often use low-quality ingredients and high-fat, high-salt meat products. Salty foods can also cause water retention, leading to bloating. Finally, most quick breakfast options are high in sugar and carbohydrates, which will make you feel lethargic throughout the day.